Rachel MacFarlane is a visual artist. She creates paper models as references for paintings that explore conditions of place.
BIOGRAPHY
MacFarlane has an MFA from Rutgers University, a BFA from OCAD University, and a Certificate of Advanced Visual Studies from OCADU Florence program. She's had solo exhibitions at Nicholas Metivier Gallery (Toronto, ON), Jarvis Hall Gallery(Calgary, AB), Mason Gross Gallery at Rutgers University (New Brunswick, NJ), the Howard Park Institute ( Toronto, ON) , and Anna Leonowens Gallery at NSCAD University (Halifax, NS). She's participated in group exhibitions in New York City, San Francisco, Florence, Quebec City, Halifax, Calgary, Toronto, and Philadelphia.
MacFarlane was awarded a 2021 and 2019 Canada Council for the Arts Explore and Create Grant, a 2019 Elizabeth Greenshields Foundation Grant, 2019 Vermont Studio Center Residency, 2015 Ontario Arts Council Grant, the Doris McCarthy Artist-in-Residence at Fool's Paradise in Scarborough, Ontario, the NSCAD Robert Pope Artist Residency at NSCAD University, Triangle Artists Workshop position in NYC, and was a visiting artist at Cow House Studios in Wexford, Ireland. She received the Drawing and Painting medal from OCAD University, and the Rutgers Mason Gross Dean's Choice Award among numerous other awards.
Her work is in public and private collections including Doris McCarthy Gallery at the University of Toronto, Jim and Susan Hill Collection, Equitable Bank, Stikeman Elliot, Royal Bank of Canada, Scotiabank, and The Donovan Collection at the University of Toronto. She is currently a Part-Time Lecturer at Rutgers University and has provided numerous artist talks including Concordia University, University of Toronto, OCAD University, NSCAD University and Sheridan College.
She is represented by Nicholas Metivier Gallery in Toronto, Norberg Hall Gallery in Calgary and Hollis Taggart Gallery in NYC.

To see her full c.v. click here.
ARTIST STATEMENT
My work laments the landscape, and manufactures new places through the process of painting. Each painting is based on a memory of a particular place. To start painting, I build models that are made from paper in small shallow boxes. The paper constructions depict sites of landscape. I then use them as the observational foundation for my paintings.
Instead of imagining places entirely, I am re-building them spatially and then painting them from life. Through this process, I fabricate a new imaginative place, building it from the residue of memory, and the humble material of paper. Through painting a reconstruction of nature, I approach the concept of nature as a work of fiction, constructed by humans. This allows me to investigate the psychological nuances of illusionistic space, the loss of untouched ecologies, and the proliferation of synthetic spaces in new media.
In my work, I question how to translate a place without claiming ownership of it. I'm interested in a murky idea of what can be considered a territory. The model helps to remove the empirical recording of a site and discuss a more rhizomatic and fragmented relationship to environment. I hope this prevents co-opting ownership of the places I examine.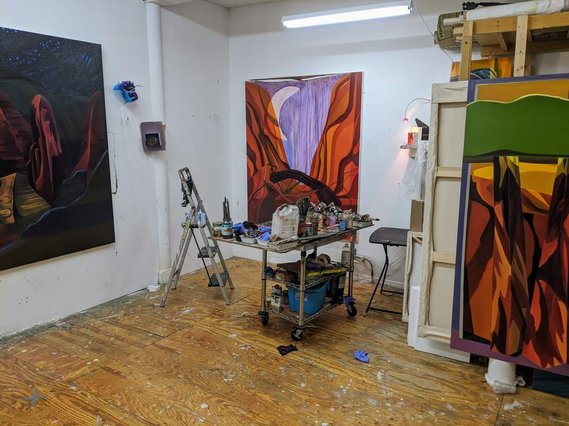 Landscape is my formative backdrop. It frames my understanding of the world. The health of our natural environment is diminishing and in tandem simulated 'natural' worlds are proliferated through virtual media. Some examples are the virtual treadmill courses of real landscapes, or the engrossing open worlds in video games like 'The Long Dark'. These virtual spaces act as a replacement for the vital landscapes we are losing. This has produced a seismic shift in how we relate to the living world.
In turn, I am compelled to explore the psychological aspects of illusionistic renderings of place. I explore not only landscape iconography but also the conventions of illusionistic devices. While I produce an uncanny fidelity of shadow, light and form, I also play with negating illusionistic space to question these artificial spaces. I am trying to explore and question the importance of direct experience, and the politics of illusion.
Artist's Voice—Rachel MacFarlane
A video studio visit made for Nicholas Metivier Gallery - June 2020 during the COVID pandemic in NYC.
With thanks to the generous support of the Canada Council for the Arts, the Ontario Arts Council, and Elizabeth Greenshields Foundation